It's the first day of my empty nest.
Richard and I are accustomed to finding ourselves home alone. My son Davy left Labour Day for his 4th year of university. We expect to see him occasionally on weekends. Last Thursday at Toronto Airport we said goodbye to our firstborn.
Katherine was at Bible school in Germany for most of the year, after graduating university, returning in mid-April to pursue gainful employment. Davy juggled three diverse jobs—lifeguard at a provincial pool, and both landscaper and junior waiter at a fine restaurant, all made possible by the takeover of my car! Katherine did a dance between two jobs, serving gelato and helping her Dad with mission projects in Africa. We also had lots of visitors this summer, so without a doubt there will be mixed emotions as Fall unfolds. Moms… you know what it means to get your home back—perhaps your car too. Shoveling and cleaning have begun in the reclamation project in this nest!
Whether it has gone quiet on the home front, or you are riding the roller coaster of new beginnings, you need to be resilient and lean into the One who provides the resources and has the plan!
Discerning God's will can be a stressor for all of us through the seasons of life. For students investing thousands of dollars in a university education, finding the best path can be a major challenge. Recent statistics reveal that over 25% of university graduates are not working in the area of their studies. From earliest days, parents have the radar up as we do our best to help our children discover their bent—the gifts and talents that will take them to their destiny purpose—God's unique, special plan that was wired into them in the womb!
"For you created my inmost being; you knit me together in my mother's womb…All the days ordained for me were written in your book before one of them came to be." Psalm 139:13,16
At the beginning of his third year of university specializing in psychology, Davy realized that he had a keen interest in business. By mid-year he was miserably trapped and desperately seeking direction. He consulted with trusted friends, and sought God's wisdom. The process revealed an ideal course that he could take after earning his psychology degree. He could continue to co-habit with six other guys without the disruption of changing universities and his study path. The peace of this happy resolution was wonderfully evident in our son.
Friends also played a role in the wonderful opportunity that opened for Katherine. For the next 8 months, she and Victoria Shaw will be interns at Uganda Christian University in Africa with Dr. Jean Chamberlain Froese of SAVE THE MOTHERS. Crossroads partners with Jean, (a recent recipient of The Order of Canada,) and the ministry she founded, that is saving the lives of mothers and babies in a country where 6,000 women die every year in childbirth.
The faithfulness of God in connecting the dots in our kids' career paths is sweet to celebrate.
Katherine was a preschooler when she boldly declared: "Mommy, I want to live in a hot country with poor people."
When we travelled to Africa in 2004 on our first family missions trip, it was evident that Katherine was right at home in a different culture and climate. Her love of the people there has taken her back four more times, the last trip as team co-leader. And now, my mother's heart wonders how the Lord's purpose and calling will be illuminated by this adventure.
"Delight yourself in the Lord, and He will give you the desires of your heart" is the assurance of Psalm 37:4. Clearly, our Heavenly Father plants the seeds of desire and destiny when He is forming our treasures. David said, "You hem me in, behind and before; You have laid Your hand upon me." (Psalm 139:5) Now those are comforting words when children are out of sight. And here's a powerful encouragement they may need right now:
"The Lord says, "I will guide you along the best pathway for your life. I will advise you and watch over you." Psalm 32:8 NLT
Hey Mom, whether you are so busy you hardly have time to read this, or you are wrestling with direction and purpose because your nest is now empty, let me hit you with my best shot! As I take stock of my new year, amidst ever changing seasons of life, my favourite confidence is articulated by David:
"The Lord will fulfill his purpose for me." Psalm 138:8
What is it about sheep... well, cute little lambs, that capture our hearts?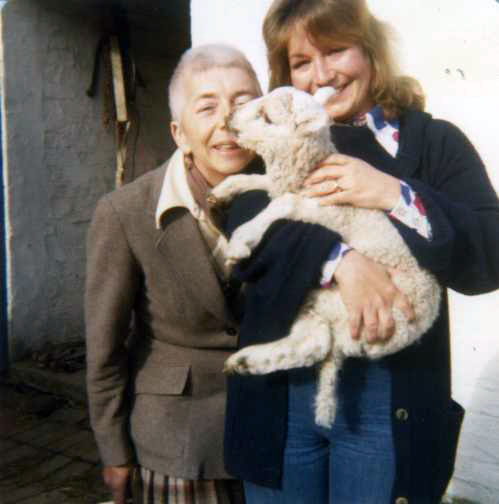 A trip to Scotland with my mother in 1965 won me over. After three weeks of watching playful cotton balls bouncing all over hills and fields that were dazzlingly verdant in Spring, I left with an unmet longing - to hold a baby lamb. April 1979, we returned to Mom's native land, and the morning I was to fly home, after a night at Katie's Bed and Breakfast, the farm owner put one of her bottle fed lambs into my arms.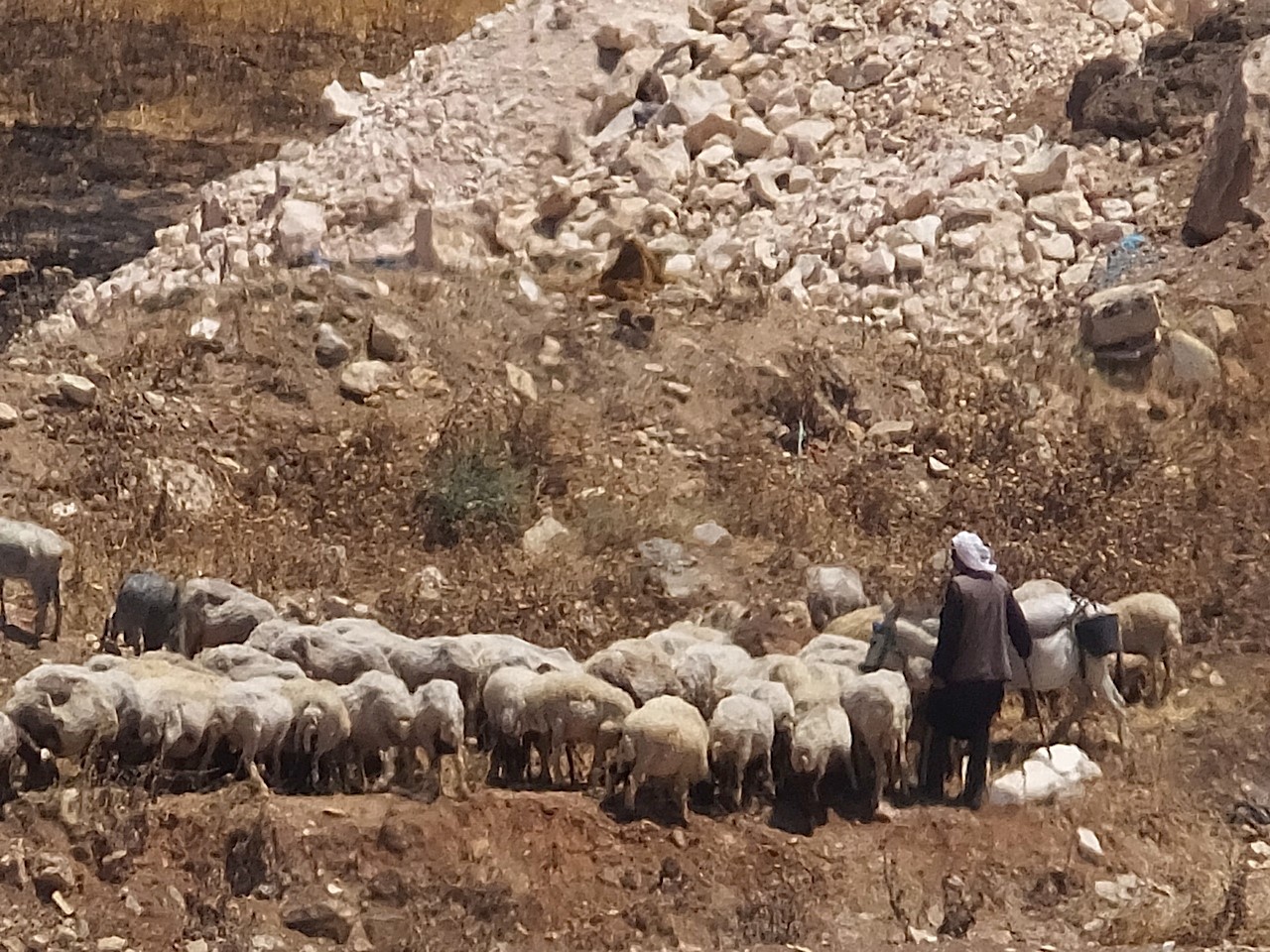 The broad-tailed sheep of Bible lands have a different look, but their behavior is the same. Jesus, The Great Shepherd called us sheep. Sheep, shepherds, lambs, and flocks are mentioned nearly seven hundred times in the Bible. Psalm 23, the best loved - just 6 verses and about 100 words - was penned by a shepherd who became Israel's greatest king. David ennobles what is often considered a lowly profession, highlighting the leadership training that shepherding provides. Robert J. Morgan, a pastor for thirty-three years and the author of over twenty books, delighted me with his greatest 'aha moment' while researching The Lord is My Shepherd - Resting in the Peace and Power of Psalm 23. He learned that "Psalm 23 is migratory! Why did the biblical patriarchs such as Abraham, Isaac, and Jacob live in tents instead of houses? Because they were always moving with their flocks, going from pasture to pasture with the seasons."
I had just returned June 22nd, from two weeks in Israel, thankfully ahead of the current political distress, where I visited locations on the route David and his ancestors traveled for thousands of years. Rob Morgan writes:
"The flocks begin in green pastures, continue along well-trodden paths, thread through dark canyons, meander into alpine tablelands, circle back through autumnal days to arrive at the master's house at the onset of winter."
Shepherd's Field in Bethlehem provides ideal grazing in winter, but we experienced the summer heat that turned the hills brown. The path of nourishment and survival led through Wadi Qelt. Scholars believe this breathtakingly beautiful terrain that provided the only passage between Jerusalem and Jericho in bible times, is "the valley of the shadow of death" David wrote about.
Wadi is a Middle Eastern term meaning "deep valley" or "ravine". With an Israeli guide at the wheel, the Crossroads crew wound our way to the heights overlooking it, arriving in late afternoon to see shadows filling countless canyons between the hills beneath us, their soft peaks visible as far as the eye could see to every horizon. My photos show the narrow paths worn by goats and sheep, with sharp bends and steep drops.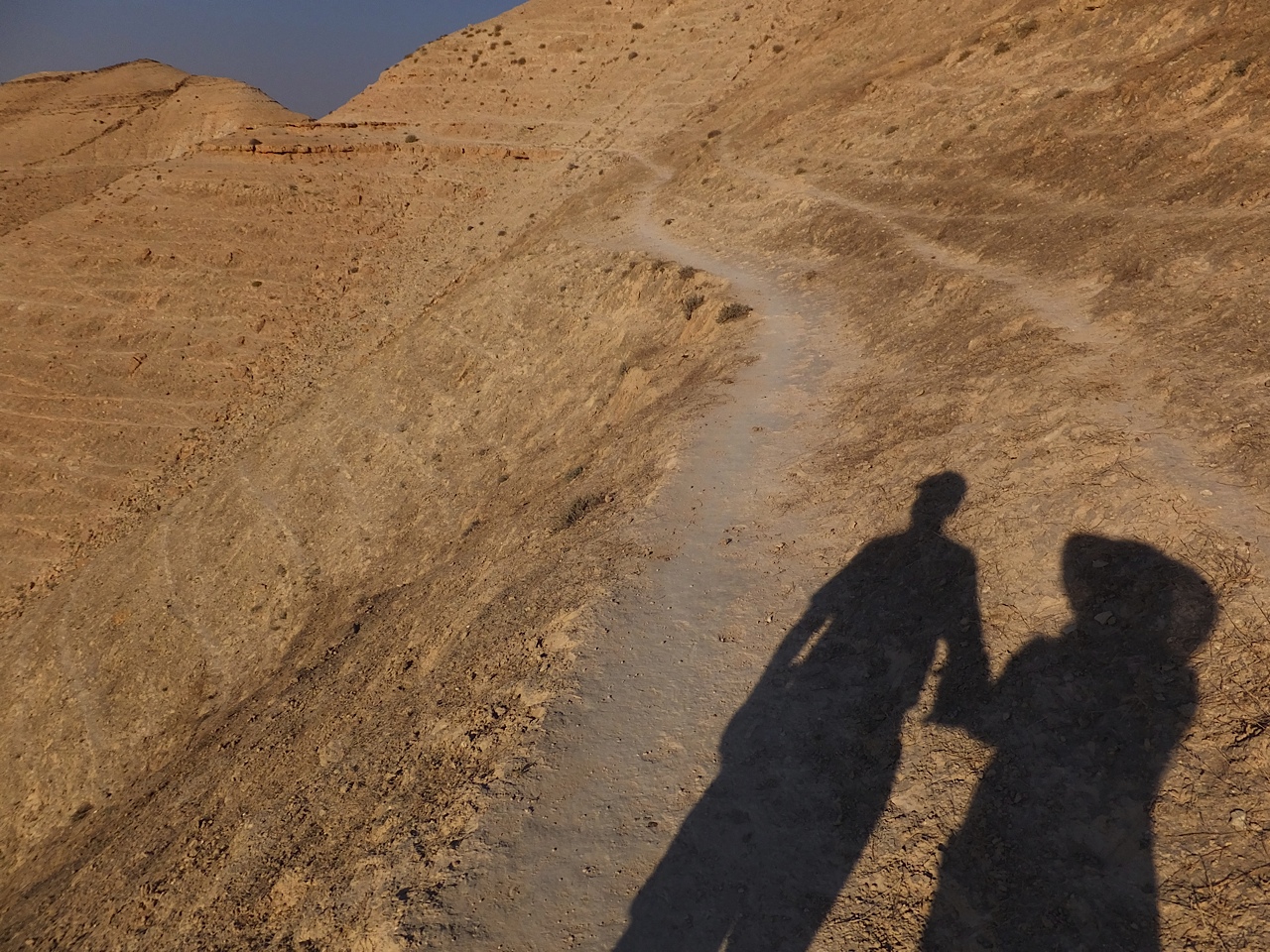 My husband Richard led me out onto a long frightening ledge, so thin we had to walk single file, my hand firmly clutching his and my heart pounding!
Strangely, the herd of goats on a slope not far from us seemed completely carefree and relaxed.
Far below, Mary and Joseph with baby Jesus fled to Egypt through this wadi over 2000 years ago, when King Herod went on his murderous rampage. In biblical times, people called it "the Way of Blood" because of the treachery of wild animals and bandits. This was the setting for Jesus' parable of the Good Samaritan, who helped the traveler who had been beaten, robbed and left for dead.
Most poignant though, at the end of His earthly ministry, Jesus left Galilee and setting His face as a flint toward Jerusalem, journeyed through Wadi Qelt, the "Way of Blood", the "Bloody Pass" as it came to be known in His day. David's "Valley of the Shadow of Death" was the road to the cross, where the Lord shed His precious blood to redeem us from the curse of death.
"He leads us even when the route gets rough and risky" as Robert Morgan says of this halfway point in Psalm 23. Those difficult passages in our lives can represent disease and disability, financial pressures, marriages in trouble, challenges with children, seasons of doubt, fear and depression, terminal illness, war, old age, death. But because our Shepherd has passed through this valley, He now fills it with the light and safety of His Presence.
We would do well to be like our wooly namesake - sheep instinctively follow their shepherd.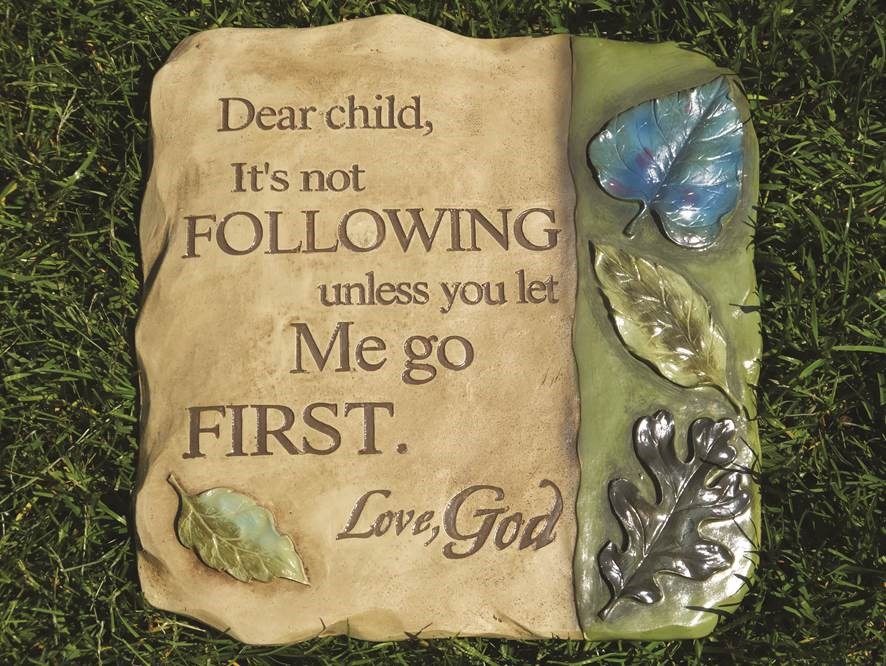 I have to admit I can be a bit of a news junkie, especially when something significant is happening on the world stage. But I've noticed that there is a new level of impact in my life when that happens in a place that I've spent time in. As I travel around the world for Crossroads Relief & Development, that is happening more and more.
Such has been the case for the unfolding turmoil in Ukraine over the last 5 months. The beautiful people I met, the outreaches I fell in love with, the orphans I spent time with – I watch everything through the lens of the impact on them. They have been consistently in my thoughts and prayers these past months.
I've also been deeply aware of the potential impact of the financial crisis Ukraine is experiencing. It's usually true that when money is tight in government, social programs can be one of the first things to feel it. As the newly installed government wrestles with a treasury that is almost empty, we've been urgently forecasting the possible impact on the state run orphanages Crossroads helps. Will food be in short supply? Blankets? What about repairs to the already dilapidated buildings?
For the last 7 years, Crossroads has been helping out practically in these orphanages with food, repairs, carpentry tools, sewing machines and playgrounds. But some of the most poignant ministry happens every Saturday when seminary students visit these orphanages to pour love into the kids. Although they run amazing programs with games, skits, music, Bible lessons and healthy snacks, it's really the attention and hugs that make the difference for these kids – many abandoned by parents who are addicted to drugs and alcohol, desperately poor or violent. The thing that impressed me the most was that these students gave the orphans their mobile phone numbers – and told them to call anytime they needed them. This went so far beyond just committing their Saturdays. Their love and commitment was bringing healing to the deepest wounds in these lonely kids' lives.
We don't know what the future will bring for these already disadvantaged kids. But we are in close contact with our partners on the ground and proactively asking people to step up more urgently to help us fund this work. We want to be ready to move quickly as things develop over the next few months.
Our partner tells us of the fear that is gripping their nation – kids who are afraid to leave their home, the sleepless nights, friends who were killed or injured in the protests and much fasting and prayer. It's tough to imagine these circumstances if you've always grown up in safety in Canada, but hearing their stories helps bring the reality home.
Please join us in prayer for this nation right now as its very future is being held in the balance. And if you'd like to help us bring aid to these forgotten and abandoned kids, please go to crossroads.ca and give the best gift you can. Thanks for joining us in making a difference in Ukraine!
Science is still somewhat baffled at the link between hope and healing, but there is no mistaking the healing power that hopeful people have. Those who have hope for the future have been clinically proven to have a greater chance of a successful medical recovery. But hope, or the lack thereof, affects far more than our physical wellness. That seems to be reflected in Proverbs 13:12, "Hope deferred makes the heart sick, but a longing fulfilled is a tree of life." Truly, there is life when you have hope. Swiss theologian Emil Brunner (1889– 1966) pointed out, "What oxygen is to the lungs, such is hope to the meaning of life."
Many of our viewers who call or email us are facing such difficult circumstances that they have lost hope. For example, a man named Anthony wrote... "This has devastated me. I have lost all hope...and I am extremely lonely and really have no hope for change." Another person, Laura, asked a very honest question in her email... "Does this mean there is no hope?"
The Psalmist was familiar with these hopeless feelings and wrote, "Why are you downcast, O my soul? Why so disturbed within me? Put your hope in God, for I will yet praise Him, my Saviour and my God." (Psalm 42:11 NIV )
One of our Lord's best Biblical names is "THE GOD OF HOPE." The Apostle Paul used that title in his letter to the church in Rome when he wrote, "May the God of hope fill you with all joy and peace as you trust in Him, so that you may overflow with hope by the power of the Holy Spirit." (Romans 15:13 NIV ) Here Paul connects two of the fruit of the Spirit, JOY and PEACE, with the HOPE we receive from God. What a great package deal!
Truly, there is life when you have hope. "What oxygen is to the lungs, such is hope to the meaning of life."
Your support of Crossroads enables us to share daily with so many who have no joy and no peace, because they have lost all hope. Thank you for partnering with us as we maximize the various media opportunities the Lord has given us to proclaim THE GOD OF HOPE. Let's keep broadcasting this Good News together!
With six Grammys, numerous Dove Awards, a star on the Hollywood Walk of Fame and numerous other accolades to her credit, Amy Grant is an American music icon who has erased lines between genres and earned the respect of fans
and peers with her honesty, vulnerability and ceaseless creativity. In 1991 her first multiplatinum album HEART IN MOTION included the #1 Top Ten hit Baby Baby. Every time I hear it, I remember the surprise baby shower Crossroads' staff gave Richard and me. I was ready to explode with our firstborn, Katherine, and I was laughing so hard I thought I might! The song began, and into the 100 Huntley Street lunchroom came a female on our staff with look-alike Amy Grant locks. She held a microphone and mimed the lyrics and moves, backed by a trio of crew guys wearing baby bonnets, big bibs and gigantic soothers around their necks. I wish we had this music video to show you. It will always be a #1 hit in my heart.
On October 28th, we broadcast some of my vulnerable moments with Amy, taped at the Breakforth Conference in Edmonton last January. Our full visit can be found at Crossroads360.com. Amy's reflections on her godly heritage—particularly the influence of her mother and grandmother were touching. Her mom died a couple of years ago, but many years back, she asked Amy to write a poem that could be shared as part of her message to a women's group. The young songwriter was surprisingly insightful then, but more recently added reflections from her maturing journey of womanhood. We have transcribed them for you here…
It occurred to me this morning as I washed this face of mine,
How quickly come the changes with a little passing time.
A wrinkle here, a hair turned grey, a not so lilting step,
I see me getting older, but I don't quite feel it yet.
Times I nearly feel my age, at others I'm 16,
So full am I at all the thoughts and feelings in between.
(And the added reflections)
Who could have known the road of life would twist and turn so much.
The journey makes me strong and weak and tender to the touch.
And so, today I face the choice that I have faced each day.
Will I be open, teachable, unafraid of change.
Yes, I'll embrace this moment, forgive my past mistakes.
Realized just showing up is sometimes all it takes.
And I'll look for the kind of beauty that time cannot erase.
Wisdom and experience, resting on each face.
Is there a mother, father, grandparent, relative, teacher or friend to whom you could express appreciation for investing in the person you have become?